The breakfast turned lunch. At Mart 130.
Pretty sure most who have been staying in Melbourne for awhile has heard of the awesome breakfast place located at
Middle Park
.
Interesting location; old station master's building @ a tram stop which explains why the name of the cafe is Mart, tram spelt backwards.
Their signature dish, corn fritters, was just alrighttttttttt.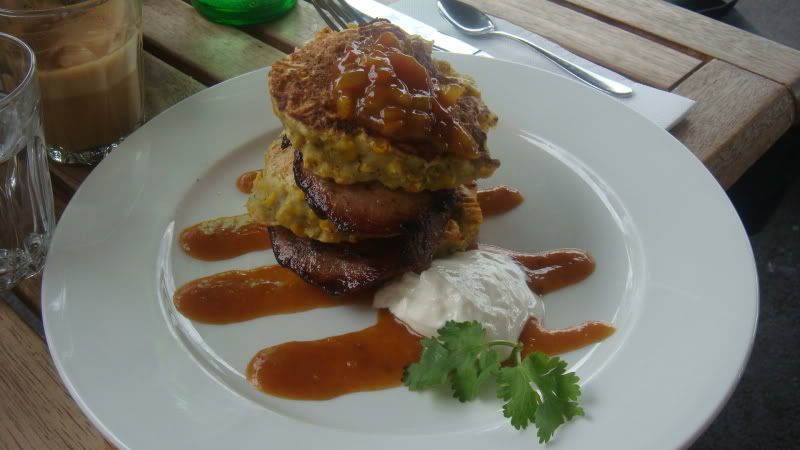 Also because I went there with high expectations because I have heard of all the raves like "CORN FRITTERS A MUCH TRY" sort of thing...
So,
I must say I was a little disappointed.
Won't deny the corn fritters were loaded with corn instead of flour. Thumbs up for that but I thought it would have been better if its more crispy on the outside.
Then again, I did not grew up with such breakfast so I am in no position to comment what a corn fritter should taste like.
Furthermore, it's my second time trying corn fritters. HMMMM.
Bacon was good though! SLURPS.
Sophie had her poached eggs, toast and smoked salmon.
Never liked poached egg so I can't comment much on that.
It looks really pretty though!
The ambiance is pretty nice.
Would say a nice place to chill.
They even used expensive handwash (couldnt remember if it was Crabtree & Evelyn or Loccitane)
Many also said they serve FANTASTIC coffee but I won't agree on that.
Go elsewhere if you thought that they serve good coffee!
Yeapppp. Nice place for photos!
Not forgetting, Truffle came with us!
( Look at her teeth. D: So fugly! )
Nevetheless, Truffle lovessssssssssss that place aplenty since it's right beside Albert Park!