Missed out on this night-out entry with one of my favourite girl,
Sophieeee
!!
Usually, we will meet to go for a mala indulgence because BF is so anti other places,
BUT
This time it's different!
Managed to convince BF for a pasta night.
And after reading some blog reviews on where's good at Lygon,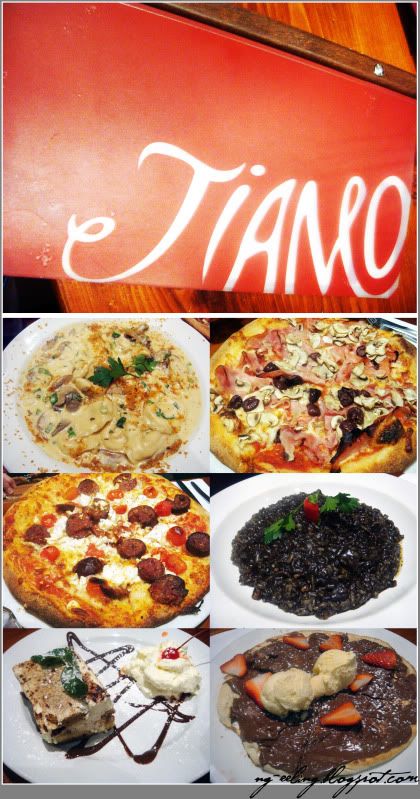 They are just next door! & we went in to the first one that we saw.
Nevertheless, it was the best pasta so far that I've tried at Lygon.
Just Lygon.
Apparently, Lygon is too over-rated for having good pizza and pastas just because they are known as "Little Italy".
Previously, the other places that we've tried arent that good. Especially the last one that I went!
Sadly I forgot the name of that place. ARGH.
Atmosphere - check.
Italians - check.
Crowd - check.
BUT WHY MY PASTA STILL TASTED LIKE CHINESE CHAO-MEIN?
Yet, my order with BF was different - one was white wine vongole and the other one was cream pasta)
and ours tasted similar!
I wished I had remembered the name of the place to serve as a warning to people who happened to stumble onto my blog while searching for "Lygon good pizza or pasta restaurants"
Papa Gino
was the other one that I've tried. Apparently the pizza is good which we (or rather BF&I) tried only the garlic pizza.
AWWWW
.
Can't say much for the main dish though. But I guess the good garlic pizza is an indicative judgement on the quality of their other pizzas!
Regardless, Sophie had tried and said that it's good!
OK soooooo
I ordered the
TORTELLINI TARTUFO
(Ricotta filled tortellini with cream, mushroom & truffle)
Don't expect visible truffle for that price. But pretty not bad! The pasta arent soggy.
I wished they give fresh Parmesan instead of the dried ones.
BF's and Sophie's pizzas were pretty decent!
Harvey's
RISOTTO NERO
(Rice with cuttlefish ink & thinly sliced cuttlefish)
had strong squidy taste which I love!
And they agreed that it was nice too.
NOW,
Disappointment >>>> Desserts
Despite raves on how good their Tiramisu was.
Initially, my few bites was pretty okkkk and I think that was the middle
BECAUSE when I ate the other side, IT'S SO DRY!
The nutella pizza? Don't get be started.
I licked off the nutella, ate the supermarket icecream and threw away the crust. Left the badly whipped whipped-cream behind too.
'nuff said.
Unsatisfied, we went to Koko Black! (HEHEHEHEHE)
My dessert compartment seemed to be like some kind of overblown pouch.
Forgot to take photos of the dessert but really, hot chocolate looked alike. So no point, right? I had a skinny hot chocolate (HAHAHA, TRYING TO EASE MY GUILT EVEN THO I KNOW IT DOESNT HELP MUCH) and Sophie had her Iced-Chocolate.
Girls can never have enough of sweet treats!
Oh yea, why not Ganache?
We finished our dinner damn late!!! And they closes at 10pm. SADDDDD. Ok, that's beside the point.
Koko Black is my other favourite hot choc place anyway.
And photos taken at Kokoblack!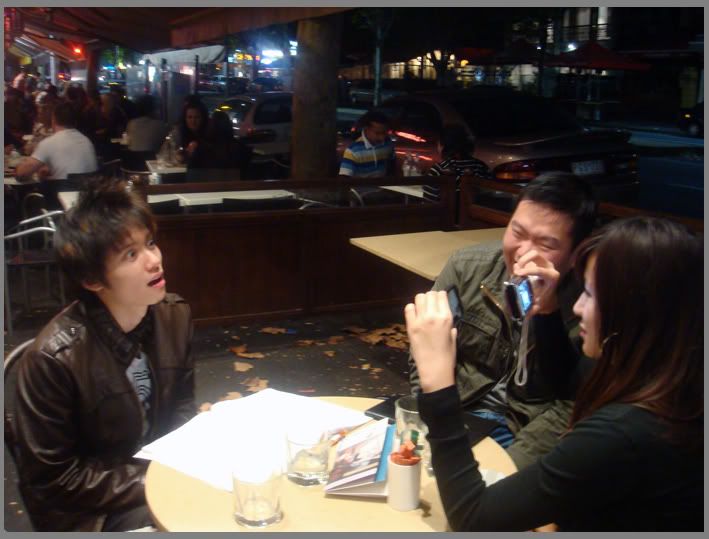 LOL at BF's expression.
We were trying to capture some nice shot of something like that: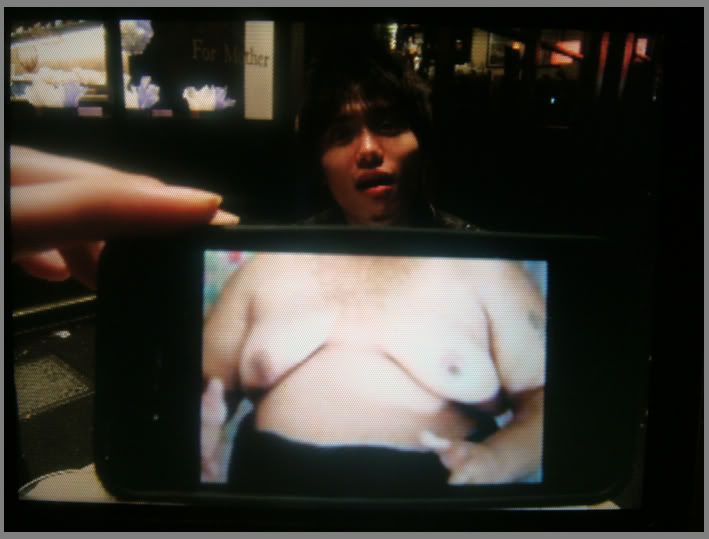 Original photo is with Sophie though.
And yesssss. A photo with her!
PLUS we were wearing a somewhat similar style!
Another photo!!!
Closer take, just in case you can't see.
(HAHA, excuses to post up another photo of us.)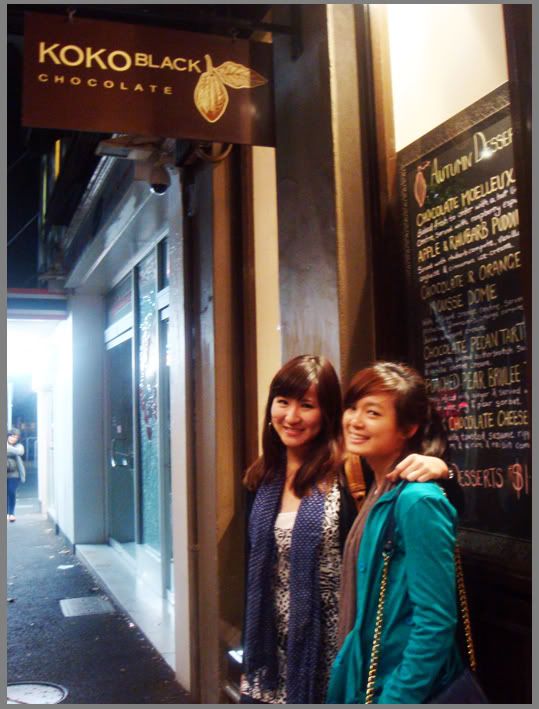 LOVE!
PS// Sosososososossooo excited for our June-July roadtrip! WHEEEEEE.