LINK.
One of my favourite cafe, especially since it's so near my uni!
Happened to chance upon this little cafe one fine day. Instead of going to the popular well known cafes to satisfy my brunch cravings, I had decided to pop over this place as I had to drop by Boxhill thereafter to do some grocery shopping for a barbie session with friends (
Photo
). So instead of doing all the detours etc, I have decided that it will be more time-efficient to just eat at this little suburbs near my uni.
There were other small cafes but seeing the crowd at Santucci, I had assumed that it shouldn't be that badddd.
Boy am I glad I did give Santucci a chance!
Had their
Poached Apple, Ricotta, Brandy Cream & Pomegranate Molasses
.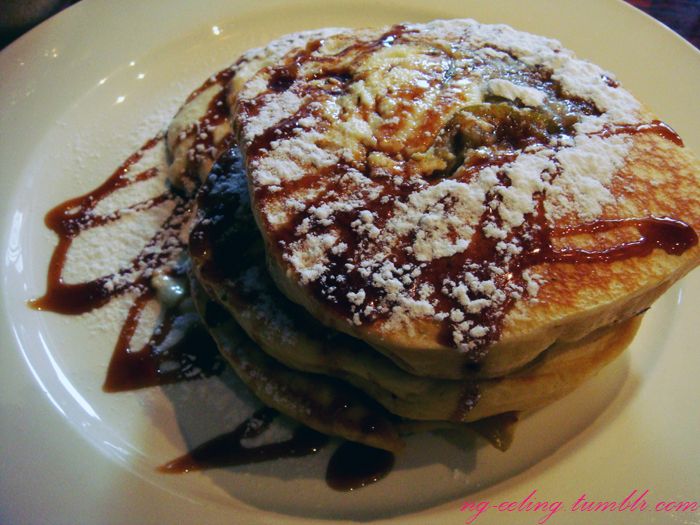 Love love their pancakes.
I thought it was pretty special.
The ricotta was not smacked on top of the pancakes like the norms. They actually had the ricotta occupied the middle section of the pancakes. Imagine pancakes with a hole in the middle (like doughnuts) and they filled the gap with ricotta.
ORGASMIC. (◐ o ◑ )
Their menu*: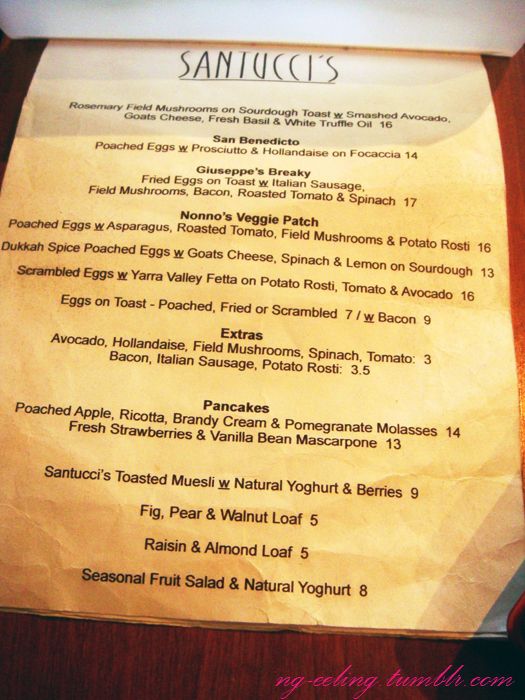 Actually there's a second page with all the sandwiches, pasta, etc but I have no idea why but I only capture the first page.
So happy that there's a decently good cafe near university and will definitely go back there again! Ok, I already did, TODAY. Tried their risotto. Their blackboard special.
Even though they still can't beat the ones I had at Vue De Monde, I thought they did a pretty good job. :)
But you probably can't get that again since I reckon they change their daily specials everyday? Hmm?
(*I think they change their menu pretty regularly as they had a different kind of pancakes when I visited them again. It was like less than a month ago? I certainly do hope so!)